Guide to Green Card Marriage 
If you're like many people, you qualify for lawful permanent residency in the United States because you're married to a U.S. citizen or lawful permanent resident.
As a green card holder, you will be able to live and work in the United States for as long as you wish.  You may also travel in and out of the United States for up to 6 months at a time. 
A green card is also an important step to eventually becoming a U.S. citizen. Once you've obtained your green card and wait the appropriate amount of time, you may be able to apply for citizenship.
Obtaining a green card through marriage can be a complex process. Any mistakes in your application could delay your green card approval or even result in a denial. 
This guide explains everything you need to know to get started.
Getting your green card through marriage is a process that looks like this:
You establish your marital relationship
Your spouse applies for the green card as your sponsor
You attend a green card marriage interview and wait for the U.S. government to give you approval
Here's a closer look at each.
Establishing the Marital Relationship for Green Card Eligibility 
In order to qualify for a green card through marriage, you must show U.S. Citizenship and Immigration Services (USCIS) that you're married to a U.S. citizen or lawful permanent resident. 
To do this, your spouse must file a Form I-130, Petition for Alien Relative. 
Many people find that it's easier to start the process by working with a San Antonio immigration attorney.
The U.S. citizen or LPR who files the form through your attorney is called the petitioner or sponsor. The spouse is called the beneficiary or applicant.
To file this form, you and your spouse will need to pull together some supporting documentation, including:
Proof that the sponsor is a U.S. citizen or a lawful permanent resident (through a birth certificate or green card, or another type of identification)
Proof that you are legally married (such as your marriage certificate)
Proof that your marriage isn't fraudulent (such as a joint lease, bank account statement, images from the wedding or other documentation)
Proof that previous marriages have been lawfully terminated (such as divorce decrees or death certificates)
Request A Free Consultation Today!
Please feel free to contact us for any questions that you have and we will get back to you as soon as possible. Please provide as much detail as possible in the comments section so that we may better assess your case and be able to provide a proper response.
Request A Free Consultation Today!

Applying for a Green Card Through Marriage
Not everyone is eligible for a green card through marriage. First, you must be eligible for admission to the United States. If you aren't eligible for admission, you cannot get a green card based on your marital relationship with your spouse (or for any other reason).
If you physically live in the United States at the time you apply, your attorney will file a Form I-485, Adjustment of Status, on your behalf. If you do not live in the U.S., your attorney will file an application with the National Visa Center, or NVC. That package will contain everything necessary to process your application, and the NVC will forward it to the appropriate U.S. embassy or consulate.
Attending the Green Card Marriage Interview
The last step in obtaining a green card through marriage is to attend an interview with a USCIS official. The official's job is to determine that you're in a bona fide marriage, which means you're married because you want to be married – not because you're trying to obtain an immigration benefit (like your green card).
Some types of questions the immigration officer might ask in your interview include:
– How long have you been together as a couple?
– Tell me about the last few conversations that you've had with each other.
– When and where did you meet each other for the first time and how were introductions made?
– What side of the bed do you sleep on?
The questions are designed to confirm the information in your application as well as determine if you are in a real marriage.
If you're concerned about anything in your application or any of the questions the immigration officer might ask, contact our San Antonio immigration attorneys and we will go over your case help prepare you for your interview.
What Happens After You Apply and Attend Your Interview?
After you apply and attend your green card marriage interview, USCIS will make a decision on your case. If USCIS approves your petition, you will receive a conditional green card if you've been married for less than two years. If you've been married for more than two years, you'll receive a permanent green card, which is valid for 10 years from the date of issue.
What Is a Conditional Green Card?
A conditional green card is valid to two years. 90 days before your conditional green card expires, you'll need to apply for a permanent green card and again prove that your marriage is real and continuing. If approved, you will receive a permanent green card that will last for 10 years before needing renewal.
Conditional green cards help ensure that individuals getting immigration benefits are being genuine about their relationships. That's why conditional green cards are allocated to those married for two years or less and those who have been married for longer are eligible for the 10-year permanent green card from the start.
You must submit Form I-751, Petition to Remove Conditions of Residence during the 90 days before your conditional green card expires. If you fail to do so, USCIS will automatically deny your petition and you will lose your status as a conditional resident. This means you'll be out of status, meaning that you were not in a lawful immigration status, and you will likely be subject to removal from the United States.
Is It Possible to Get a Marriage Green Card with a Criminal History?
A person who has a criminal history may still be eligible to obtain a green card through marriage depending on the type of crime. If you've been convicted of an aggravated felony, a crime involving "moral turpitude" or a crime involving illegal drugs, you could be inadmissible to the United States and therefore unable to obtain a green card.
If you have been convicted of one of these crimes, you may be able to be granted a "waiver of inadmissibility." Criminal convictions are one of the biggest barriers to obtaining a green card marriage.
The best way to find out if your criminal history will affect your green card application or if you're eligible for a waiver is by speaking with a San Antonio immigration specialist.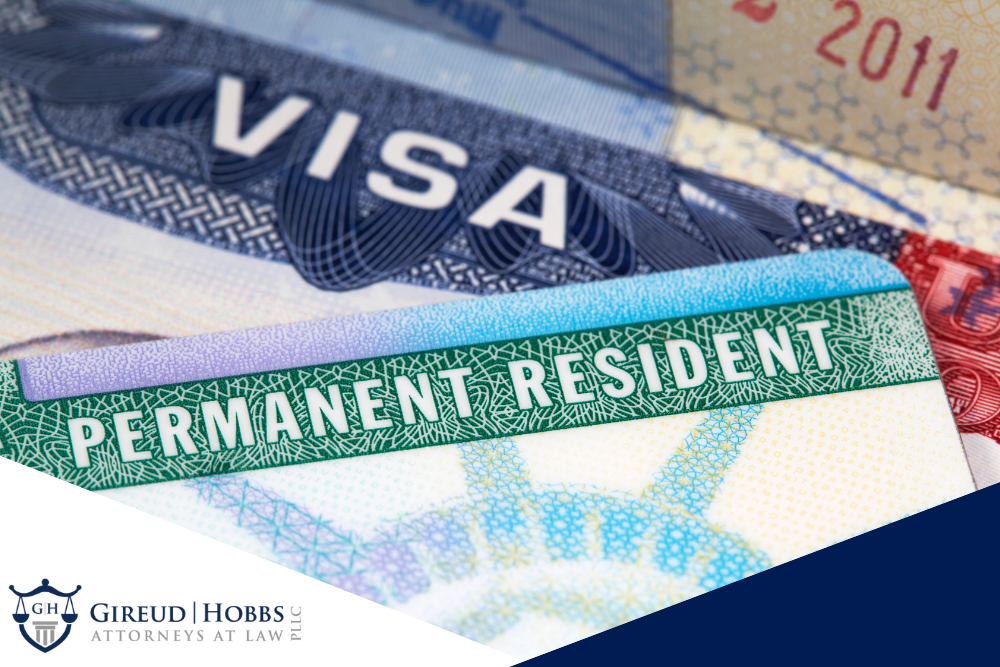 Do You Need to Talk to an Attorney in San Antonio About Green Card Marriage?
When you're looking to get a green card through marriage, it's important to understand how the process works. Immigration attorneys who specialize in this field can offer more expertise on this topic.
A San Antonio immigration attorney can help you navigate countless forms, different procedures and potential pitfalls of the immigration system.
If you need to speak with a lawyer about obtaining a green card through marriage, we may be able to help you. Call our office to schedule your free consultation with an experienced, knowledgeable and understanding green card attorney today.
Request A Free Consultation